Hopkins Advantage
Continued Innovation. Hopkins is the inventor of:
Plug-In Simple!® Vehicle Wiring Kits
Plug-In Simple!® Adapters (from basic to LED Test, Nite-Glow™, Multi-Tow® and Endurance™)
Quick-Fix™ 4-Wire Flats
The Engager™ Trailer Break-Away System (with built-in battery meter and charger)
Endurance™ Professional Connectors
And much more....Our continued innovation supports our mission of enhancing the user towing experience.
Customer Service and Satisfaction
Dedicated technical support representatives are available for person-to-person interaction M-F 8:00 a.m. to 5:00 p.m. Central Time at 1-800-835-0129.

Quality Assurance
We take pride in establishing quality control measures and procedures throughout our ISO 9001:2008-12 certified manufacturing process. Each wiring kit is 100% electrically tested.
Premium Retail Packaging
Color coded packaging and numeric product numbering system by vehicle make and model provide for quick reference look-up. Large illustrations on the front and increased product visibility on the back provide for finding the exact product solution with confidence.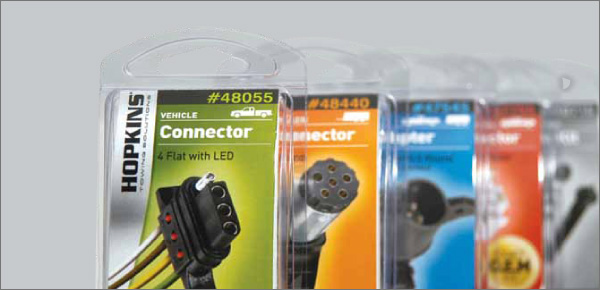 Comprehensive Application Guide and Do-It-Yourself Installation Instructions
Our application guide lists each tow vehicle on the market with its appropriate wiring kit application. Installation instructions are consumer oriented with detailed step-by-step procedures and diagrams.