About Us
Founded in 1953 and located in Emporia, KS, Hopkins Manufacturing Corporation is recognized as the automotive industry's leader in towing electrical products. Living by our mission, the company's focus continues to be making the towing experience simpler and more rewarding through innovation and value.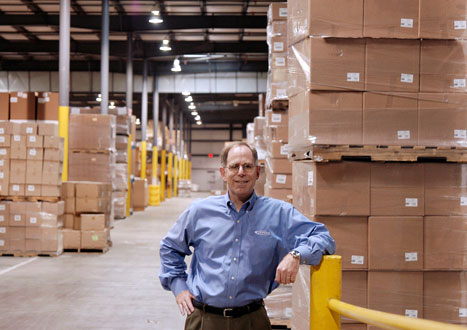 Hopkins Manufacturing President, Brad Kraft

Innovative electrical product offerings have included:
Plug in Simple® Vehicle Wiring Kits
Plug in Simple® Adapters (Multi-Tow®, LED Test, Flex-Coil, Endurance™ and Nite-Glow™)
ENDURANCE™ Vehicle and Trailer Connectors
ENGAGER™ Breakaway Systems
and much more...

Simplifying the consumer use experience is more than a mission statement to us, it is our passion. Today, more than 40% of retail category sales are generated from Hopkins innovations and 9 out of 10 consumers rely on a Hopkins wiring product solution for towing.

In further pursuit of innovation, Hopkins either has created or invested in multiple product categories. In 1985, the Hoppy "Bear Paw" ice scraper in a mitt outsold the cabbage patch doll as the nation's top gift idea and today Hopkins is the world's leading producer of snow and ice removal tools. Overall, our markets include electrical towing products, snow and ice tools, everyday vehicle cleaning, vehicle storage and organization products, RV and multipurpose leveling devices, RV Tow Brake systems, fluid handling tools and driver awareness products.
Hopkins Emporia, Kansas Facility
Employs over 300 people, centrally located in the United States
Hopkins Juarez, Mexico Facility
Employs over 200 people, ISO 9001:2008-12 Certified